UX/UI CASE STUDY
---
AstroRelay
AstroRelay is a secure tunnel for remote accessing devices. This is a solution that lets users create public URIs to access their local resources, 4G LTE networks and behind NAT. It supports remote SSH, remote Raspberry Pi, remote desktop, etc. This project is an extension of GL.iNet existing networking hardware business scope, and it aims to fulfill the needs of creating easy remote access deployment. The service has a flexible pricing plan for personal and business scenarios.
I worked closer with CTO and lead the product design and marketing part of the project, along with two software engineers. It's also my first time being a product manager role for a PaaS project.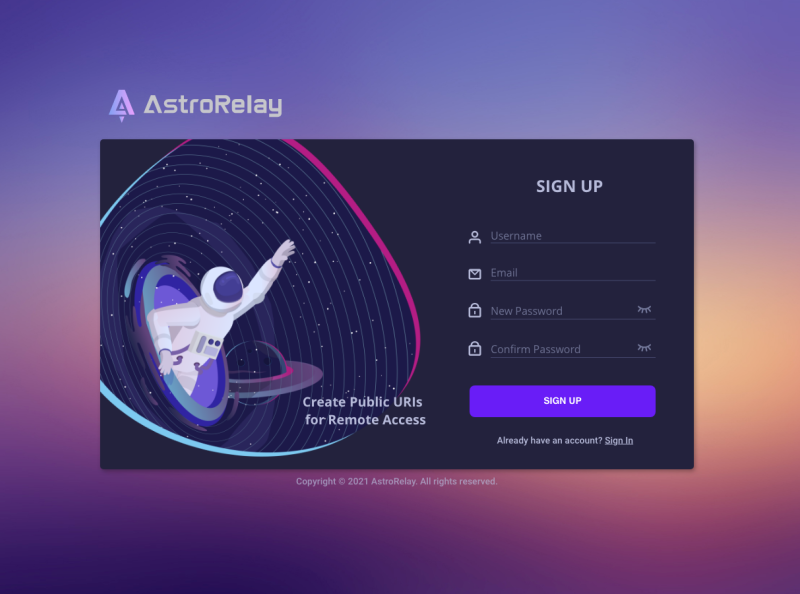 "It really is M A G I C !! Great job guys - 1GB lasts for ever, since it's just used for the admin-data passed between the web interface and the remote router … which is nothing. thanks for another great innovation"
by spamatiki, A user of AstroRelay Beta version
---
Design for the Audience
The project was initially a personal project developed by a Swedish software engineer who tried to establish secure access to OpenWrt networking devices remotely. Our product team took over the project and aimed at shaping a better product experience through commercializing the product features, friendly interface design and better technical support. I lead a team of UX designers and marketing specialists to build the prototype from scratch, to track engagement, analytics, and feedback, and to encourage feature adoption and drive product usage.
Based on our market research and analytics, the major pain point of our potential customers is dealing with the complex configurations on the end devices' firewalls when they want to access their local resources remotely. These people are usually with technical backgrounds and they are looking for a reliable and cost-effective solution for their projects. AstroRelay can provide users public URIs to simplify the remote access after installation. One of the typical scenarios is setting up a remote access to control their IoT devices.
---
---
"Astro cos its a wormhole across the internet and relay."
by Johnex , the engineer who comes out with the idea of AstroRelay
We want the look and feel of the product to stand out in the market and it also echoes the meaning of "a wormhole across the internet and relay". I proposed using the movie Interstellar as a design reference and my team also love and fascinate the sci-fi idea of using wormholes to do space travel. The final design of AstroRelay visual is very much inspired from the movie, showing an astronaut exploring his possibilities in space and his journey across different realms without the blocking of difficult network configurations.
---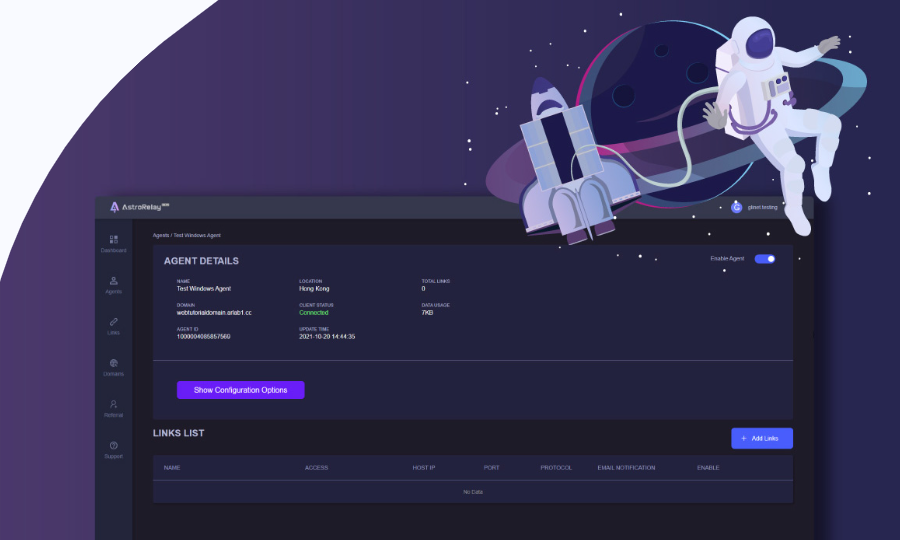 ---
Clarify the Concepts
AstroRelay is based on a very technical concept even too hard for us to understand at the beginning. I brainstormed with my team on how to simplify the concepts and tell users to follow step by step. Then, I lead the design of a welcome guide for the first time users to follow. Generally speaking, in order to get the public URLs linking to their local files, users need to set up a Domain name and then create an Agent.
---
High resolution prototype of how the first time user can set up a domain, an agent, and a link step by step.
---
"A good refer-a-friend program should make it clear how each party benefits. An individual is more likely to make a purchase if they know the friend who referred them will also benefit. "
by Andy Cockburn, The Psychology of Referral: Cialdini's 6 Weapons of Influence
To attract more users, we designed a referral program for users to invite friends and families inspired by an article about The Psychology of Referral, and it mentioned some of Cialdini's weapons of influence. We found that some current users didn't continue using the product after their free data package was out, therefore, we sent out a kind reminder via email and asked why they didn't continue using. The result shows that we don't have an attractive data plan to retain these users, and even less new users would like to try. After the competitor research, we found that referral programs are very popular, then we also came out with a referral program that current users will get free data if their referral links are activated. After we launched the referral program in August, 2021, the active users and new users both increased around 48.6%.
---
Other Related Design...
---
AstroRelay Animation Storyboard
I created a storyboard for designers to make an animation for the first time users to get the idea of how AstroRelay works.